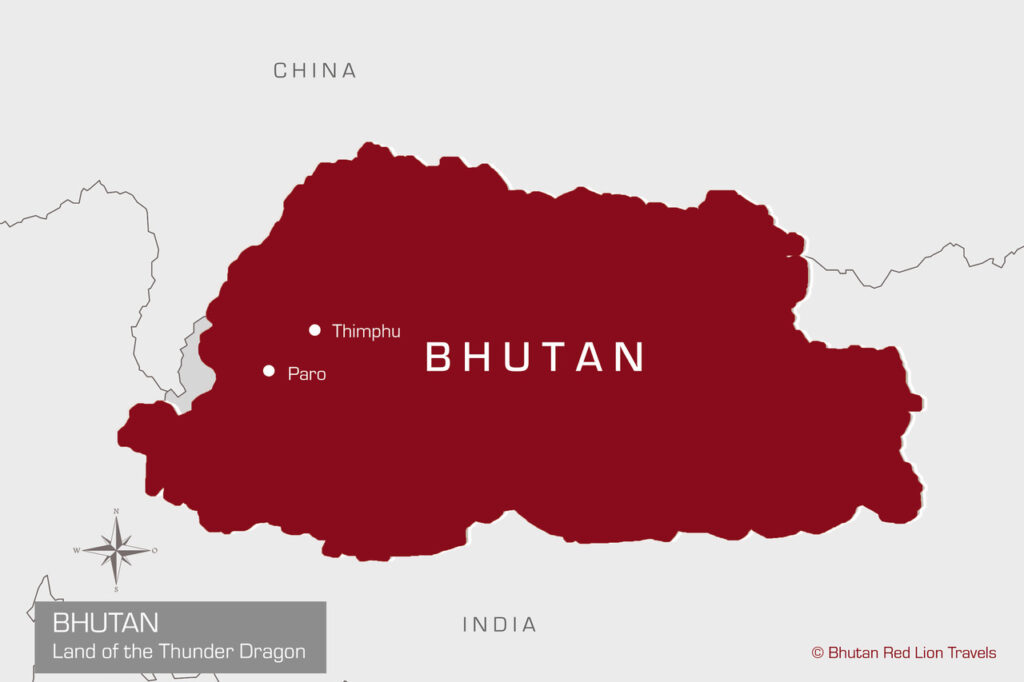 Travel Information about Bhutan
To make your trip to Bhutan a little easier, we have complied the most important travel information about Bhutan, the people and culture on the following pages.
Nothing stands in the way of an unforgettable trip to the fascinating kingdom of Bhutan!
You can exchange euros or US-Dollars for Bhutanese Ngultrum as soon as you arrive in Paro airport. There are also ATM in the larger cities, but the functionality is often not reliable.
Bank opening hours are from Monday to Friday from 9 a.m. to 4 p.m. (November to February) and from 9 a.m. to 5 p.m. (March to October). In the capital Thimphu, some banks are also open on weekends.
Post office hours are from Monday to Friday from 9 a.m. to 5 p.m. and Saturday from 9 a.m. to 12 p.m.
Shops are normally open from 9am to 8pm every day except on Tuesday. Highlights are the markets on Sundays which offer local clothes, food and jewelry these markets can be found in the towns and in many smaller villages.
Road
The road Infrastructure in Bhutan is often not well developed and travelling through the country can sometimes be difficult. Due to the mountainous landscape and the bad mostly unpaved roads, it takes a long time to get from the remote villages to the larger cities. The suspension bridges built between 1978 and 2008, which creates a connection between the smaller villages and the larger cities. A connection to the Indian railway network is also planned over  the next years.
Important to know is that Traffic drives on the left in Bhutan.                
Bike
Cycling is not permitted in the cities of Thimphu and Paro. The city of Thimphu is also, along with Ngerulmud the capital of Palau, the only capital city in the world without a single traffic light. Interestingly at one point Thimphu had a single trafficlight. But the people get so confused about that, that the city quickly removed the trafficlight again.
Public Transport
By the way, if you look for public transport in Bhutan, it is good to know that no public transport is offered in Bhutan: cars and minibuses are the only kind of transport in Bhutan. As a tourist you are also not allowed to rent or drive a car and for this purpose you always have a driver together with a guide how takes care of the maintenance of the car and the luggage.
The time difference to Germany is +5 hours during German wintertime and +4 hours during German summertime.
Normally 220 volts, but the supply is rather unreliable. A flashlight should definitely not be missing in your luggage! Since Bhutan has three different types of sockets, you should also take a world adapter with you.
In order to be able to call to Germany from Bhutan, a tri-band cell phone is absolutely necessary. Then you can also use a local SIM card. However, reception is not universal.
Tips are only customary for your guide and driver. Between US$ 15 and US$ 20 per day is appropriate here (although the guide usually gets a little more).
As a basic rule, Bhutanese are very happy to be photographed. However, it is essential to ask for permission beforehand. Please note, photography is only permitted to a limited extend in monasteries.
Special Laws and Regulations in Bhutan
Buying and selling tobacco products in Bhutan is strictly prohibited. You are only allowed to bring amounts of tobacco for your own consumption with you. But be aware that overall smoking in public is forbidden (however, there are designated places where this is still possible, your guide will help you here).
Be also aware of that offenses against the Narcotics Act are punished heavy prison sentences even for possession of the smallest amounts.
Bhutan is a paradise for handicrafts of all kinds. These handicrafts include bamboo and rattan objects, wood carvings, paper and books, silver work, jewelry, fabrics and carpets. Unlike many other Asian countries, it is not intended for export or tourists in Bhutan and is therefore authentic. However, the work is relatively expensive, and trading is rather unusual und unpolite. In general, a price reduction of more than 10% should not be expected.
Craft shops are scarce outside of Thimphu, Paro and Bumthang, so if you find something you like, its best to shop direct. The shops often don't have any goods in stock.